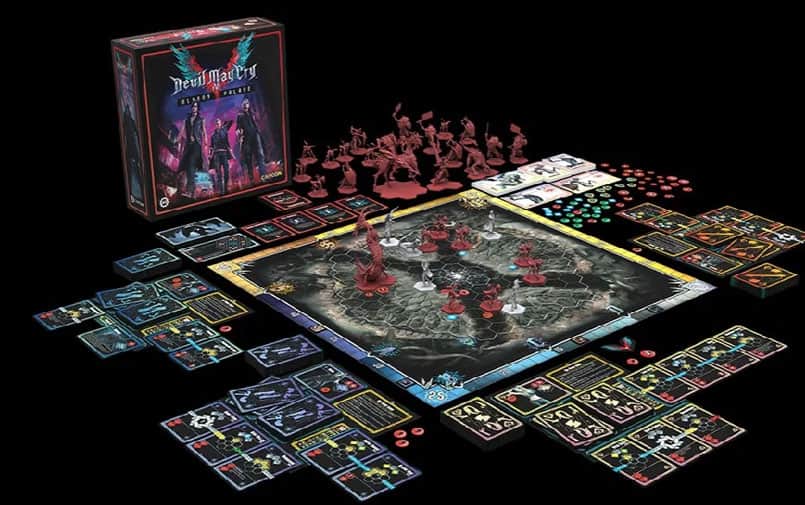 Steamforged Games Heading to Kickstarter to Support Devil May Cry Board Game
With the newest release of the Devil May Cry series just a few months ago and it's renewed vigor from its fanbase, Steamforged Games has decided to add DmC to its lineup of console-turned-board games. To fund this enterprise, they'll step back into the Kickstarter ring to get started later this spring.
From what's been released we know quite a bit — that the game will be called Devil May Cry: The Bloody Palace and gameplay will focus around a four-round, deck based combat system. The round will begin when the first enemy is drawn and will end when the board is clear. On the final round, the players will come up against a boss battle to end the game.
Steamforged Games has done an excellent job in the past bringing these games to the table, providing high-quality products and embodying the essence of the game. Their game based on the Dark Souls franchise is said to accurately portray the insanely difficult boss battles well on the board, so this is a great sign for those DmC fans who want to see a real transformation.
This company has a stellar track record for the properties that they've been able to obtain so far, their best being their Dark Souls campaign, bringing in over $4 million. They also saw great success with their Resident Evil 2 and Horizon Zero Dawn, each pulling in over $1 million.
Steamforged has released an extensive look at how the board game is played on their website, which you can check out here. Keep in mind that it's the prototype version of the game and is subject to change before the final release. Make sure to keep an eye out for the launch of the Devil May Cry: The Bloody Palace Kickstarter later this spring.