The best gaming laptops in 2020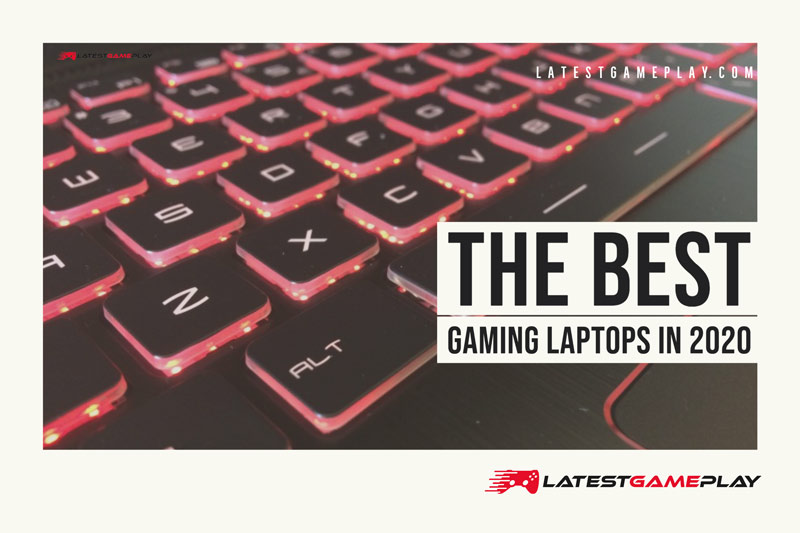 There are different types of gamers, there are console fans, mobile gamers, and of course, PC gamers. Many people tend to choose to play on PC for better performance, higher graphics, more versatility, and overall more comfort they offer. But while we all acknowledge how technically superior it is to game on a PC, we also know that it can be pretty expensive.
Many users opt for a gaming laptop as it's a more compact and easy to move way of doing PC-gaming. So that instead of carrying around a huge tower, all the cables and such, you just have to carry a laptop. They are usually beautifully designed and pretty well optimized too. And for their features, they are also pretty popular among creatives for working.
Whatever the case, the truth is that gaming laptops are some of the most versatile and comfortable machines out there. And that's why here we've brought you a list of the best you can get in various price ranges. Hopefully, there's something for you on this list, so, let's get started then!
Razer Blade
It's no secret that Razer makes some of the best products for gamers. Not only do they have top of the line specs, but they also have beautiful designs. The Razer Blade 15 is probably one of the best gaming laptops you can buy. Sure, it's very expensive, but just a quick look at the specs you can get on this device will justify it.
On the top configurations, you can get an amazing NVIDIA GeForce RTX 2080 Max-Q, one of the best, if not the best, GPUs available in the market today. It's one of the few amazing gaming laptops with a 4K OLED touch display, 512GB SSD storage, and an Intel Core i7-9750H. Sure, there are some newer processors in other gaming laptops, but this one has something many other laptops lack: a slim design.
The Razer Blade 15 is as powerful as it is slim. A light, strongly built body in very elegant tones and not-too-flashy look will make this laptop one of the best-looking devices you can buy.
HP Omen X 2S Laptop
The Omen series by HP has always been popular for their beautiful designs and powerful builds. This laptop is no exception to that rule, and it-s a strong competitor for the previously mentioned Razer laptop. Both are over the $2000 price tag, but their specs and design are definitely worth it.
You can choose different specs for this laptop, the top one featuring a monstrous Intel Core i9 9880H  processor with an NVIDIA Geforce RTX 2080 with 8 GB of GDDR6 dedicated memory. HP also offers amazing display features to choose from, and while none of them are OLED nor touch they are powerful too. It ranges from an FHD 144 Hz anti-glare display to the same display but with a refresh rate of an incredible 240 Hz. And if the resolution is what you're looking for, they offer a 4K model too. Up to 1 TB of  M.2 SSD  and up to 32GB of DDR4-2666 SDRAM, and you'll get an amazing machine.
Now, you'll have to consider that with the design of this laptop, it's impossible to go unnoticed, as it really says Gaming laptop out loud. If that's what you're looking for, then this HP Omen is for you.
ASUS ROG G531GT-BI7N6
SEE IT ON AMAZON
When you read ROG on a laptop's name you know two things: Gaming's going to be great and excellent quality ahead. The Republic of Gaming brand of ASUS makes some of the best and most high-quality gaming laptops available in the market. While the previous laptops on this list were over the $1000 mark, to change things up a little, this one's a little under $900.
Now, since it costs around $1000 less than the previous laptops, obviously the specs aren't as top-of-the-line here. But don't be fooled by that, this laptop here features amazing specs that won't let you down, no matter what you're going to use it for.
The powerful Intel Hexa-Core i7-9750H is one of the best processors you can have on a laptop. This processor can run some pretty decent gaming all by itself, but when you add the NVIDIA GeForce GTX 1650 with 4GB of dedicated graphics, things get even better. You'll be able to play pretty much anything on the market right now and at with pretty decent performance. The display is an FHD 15.6″ panel and it's rocking a 512GB SSD for faster performance. It includes 8GB of user-upgradable RAM and all the ports you need.
This is one of the best, if not the best gaming laptop you can buy for less than $1000, so you should strongly consider this one as an option.
2020 ASUS TUF 15.6″ FHD Gaming Laptop
Just when you thought gaming laptops couldn't be any cheaper than the previously mentioned, the 2020 ASUS TUF appears. The most reasonably priced gaming laptop we could find is here and it's perfect for gaming on a budget.
Even at its price of about $700, it's still more expensive than any gaming console. But the best thing about these laptops is how versatile they are, you can work, create content, play games, search the internet, watch movies, and even develop your own games with these. And if you're just getting into the gaming laptops world, then this one is just for you.
The only one in our list without an Intel processor, this laptop features an AMD Ryzen 5 3550H Quad-Core of up to 3.7GHz, 8 GB of DDR4 RAM memory, and 256GB of PCIe SSD. It's also rocking an AMD Radeon RX 560X, which is more than enough for decent gaming.
This laptop is perfect for the content creator who wants to edit their videos on-the-go without going broke. Great for the gamers who can't afford to pay over $2000 or simply don't feel like spending so much on their computer. And most of all is perfect for the PC gamer in you. Beautiful design, excellent build quality, and great results at a reasonable price.