The Top 10 Gaming Laptops Available Right Now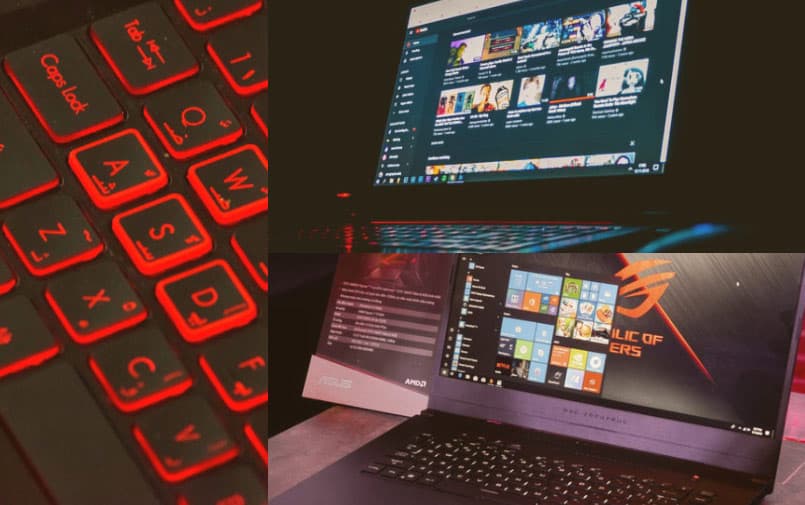 Picking the best gaming laptop for you is easier said than done. There's a lot to consider, from just how portable you want the hardware to be ultimately to how powerful it has to be. And don't even get us started on the price range. You can pretty much pay anything you want for a gaming laptop, and that's where the biggest problem enters into play.
We don't all have unlimited budgets, and we don't all game on the latest bleeding-edge stuff. Some of us just want to do some online Fortnite here and there or maybe even some classic, retro games. That doesn't mean that person needs the same graphics card as the latest Call of Duty or epic triple-A title from Ubisoft.
In this article, we will tell you about 10 gaming laptops that we think are about as good as you can get on the current gaming market. They all come in at different price points, capabilities, and even form factors. You'll find something here for you or you will at least find a point from which to start your journey to locating your next gaming laptop.
If you buy something through this post, LGP may get a share of the sale. 
Here are our top 10 gaming laptops currently available on the market:
Origin EVO17-S
Overpowered 17+
MSI GS75 Stealth
SEE IT ON AMAZON
This is the perfect laptop for the gamer that has to game and be responsible on his offtime. That means it can handle productivity tasks as well as games. It has a huge display at 17.3" FHD. On top of that, we've got a CPU from Intel's Core i7, the i7-8750H. The GPU, meanwhile, is totally from Nvidia and is their RTX 2080 Max-Q  with 8GB GDDR6 VRAM.
Overall RAM is a huge 32GB DDR4 and great middle-of-the-pack hard drive storage at 512GB SSD. Weighing less than: five pounds, it is nonetheless a pretty big piece of hardware with dimensions of 15.59″ x 10.22″ x 0.75″.


Asus ROG Zephyrus G GA502
SEE IT ON AMAZON
If you're just not feeling an Alienware laptop but you still want some pretty top of the line performance, the Asus ROG Zephyrus G GA502 is a great option. It has a moderately sized display at 15.6" FHD with an interesting CPU from AMD Ryzen 7 3750H and a  GPU from that company's rival, Nvidia GTX 1660 Ti. The 6GB GDDR6 VRAM  and total RAM of 16GB DDR4 makes this laptop an absolute beast when it comes to graphics.
As far as the storage goes, it has a 512GB SSD which should be more than enough for most people but is markedly less than the Alienware laptop, the Area 51m. It weighs a little more than you might expect for having less of of a hard drive than some of the others on this list, coming in at 4.63 pounds with dimensions of 14.2" x 9.9" x 0.8".
ASUS ROG Zephyrus S
SEE IT ON AMAZON
A total beast of a machine, the ASUS ROG Zephyrus S is no joke and probably not for the budget-minded consumer. It has a massive 17.3" FHD display with an Intel Core i7-8750H CPU and a Nvidia RTX 2080 Max-Q GPU armed with 8GB GDDR6 VRAM. Overall, the ROG Zephyrus S has 24GB DDR4 RAM and a more-than-enough 1TB NVMe SSD. Surprisingly, it only weighs like a little less than six pounds but comes in at a whopping 15.7″ x 10.7″ x 0.74″.


Alienware m15
SEE IT ON AMAZON
As with most Alienware laptops, it all depends on how you configure them but this Alienware m15 isn't bad for what you pay. It has a 15.6" FHD display. The CPU comes from Intel's Core i7 range, the i7-8750H. The Nvidia GTX 1070 Max-Q GPU with 8GB GDDR5 VRAM and overall RAM at 16GB DDR4 brings this unit in line with pretty much all the other specs on this list. Storage is similarly standard at 512GB NVMe SSD with a total unit weight under five pounds.


Acer Predator Triton 500
SEE IT ON AMAZON
This is pretty much your standard gaming laptop. It is a solid design, features great build quality, and is pretty capable in terms of graphics. What you get with the Acer Predator Triton 500 is a 15.6" FHD display and a CPU from Intel featuring a Core i7-8750H. For graphics, the Acer Predator Triton 500 relies upon a Nvidia RTX 2080 with maximum RAM of 16GB DDR4.
As or the hard drive, you're looking at a 512GB NVMe SSD for blazing fast load times. Measuring 14.11″ x 10.04″ x 0.7″ and weighing less than four and a half pounds, the Acer Predator Triton 500 also won't break your back when it comes to lugging it around.


Razer Blade 15
SEE IT ON AMAZON
This is another awesome middle-of-the-road option that won't wreck your budget and should handle most every game you can think of that isn't some system destroyer when it comes to graphics. As for the display, you get a 15.6" FHD and a Intel Core i7-8750H CPU accompanied by a GPU from Nvidia, the RTX 2060 with 6GB GDDR6 VRAM.
In terms of other RAM, you get 16GB DDR4 and 512GB NVMe SSD storage. Like we said, a great middle-of-the-road option for most consumers. It won't break your back, either. Weighing in at 4.56 pounds, you should be able to take it with you pretty much anywhere.


Origin EVO17-S
Another one of those laptops that is more what you make of it than anything else, the Origin EVO17-S is a great device for gamers that need maximum performance and screen space. It has a 17.3" FHD screen with an Intel Core i7-8750H CPU and a GPU from Nvidia, the GTX 1070  with an almost standard 8GB GDDR5 VRAM. Unit RAM is 16GB DDR4, which is surprisingly less than other laptops on the premium end on this list, and an odd hard drive size of 500GB NVMe SSD or an ample 2TB HDD. It's also not lightweight, coming in at a little more than six and a half pounds.
Alienware Area-51m
SEE IT ON AMAZON
Alienware doesn't go halfway and that shows with the Area-51m laptop. This is probably for the hardcore only, and once we start reviewing the specs you'll see why. The absolutely gigantic 17.3" FHD display is backed up by a beastly CPU from Intel, the Core i9-9900k with GPU by Nvidia RTX 2080 coming in at 8GB GDDR6 VRAM.
32GB DDR4 RAM makes sure you won't be testing the limits of this laptop anytime soon while 1TB SSD hard drive is more than enough space for a healthy library of games. The only drawback is that it weighs some eight and half pounds and comes in at a massive 16.1″ x 15.85″ x 1.7″ footprint.
Overpowered 17+
The only problem with the Overpowered 17+ is that it is only available from Wal-Mart and only in North America at that. Still, for what you pay, you get a lot of bang for your buck. It has a huge 17.3" FHD display with a CPU right up the alley of every other unit on here, an Intel Core i7-8750H.
The GPU is also comparable, the Nvidia GTX 1060  with slightly less VRAM, at 6GB GDDR5 VRAM. Total RAM comes in at 32GB DDR4 with SSD storage at 256GB SSD and standard hard drive coming in at 2TB. It also weighs a competitive five and a half something pounds.
MSI GF63 Thin
SEE IT ON AMAZON
This gaming laptop won't break your budget and should offer you competitive performance for most games like Fortnite and other popular online first-person shooters. That said, don't expect to push cutting-edge, triple-A titles on the MSI GF63 Thin. Rocking a 15.6" FHD display and a Intel Core i5-8300H for its CPU, the MSI GF63 Thin uses the Nvidia GeForce GTX 1650 Max-Q with 4GB of VRAM for its GPU.
In terms of RAM, you're looking at 8GB DDR4 with an adequate hard drive at 256GB NVMe SSD (as is pretty much standard on gaming laptops these days).  Dimension wise, you're looking at a real estate footprint of 14.13″ x 9.99″ x 0.85″ and a total weight coming in at just over four pounds. Again, not the most bleeding-edge machine but more than capable of handling most games you throw at it.