Top eSports Events in 2020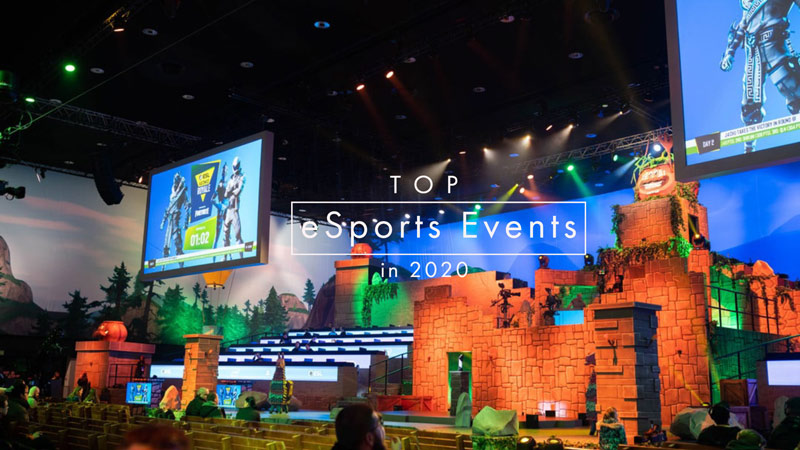 It's hard to believe that 2019 has already flown by so quickly but that only means that 2020 eSports is right around the corner.
And what a year we have in store for you. As the format grows bigger and better every year, it becomes difficult to figure out what to tell you to watch.
That's because there are so many options and we want to give fair airtime rights to all newcomers.
After all, without new growth, eSports would wither on the vine.
Nonetheless, we have to bring you the best and biggest eSports events of 2020 and that's what you'll get in this article. Here are our top 15 eSports events of 2020.
Smite World Championship
Though it isn't a reliably annual affair, 2020's Smite World Championship promises to bring evern more attention to the console MOBA than ever before.
Capcom Cup
For fans of fighting games, this 2013 stalwart is the premium show on the road today. Capcom invites some of the best players from around the world to compete in a live tournament that is then broadcast globally. Does it get better than that? Not really, and 2020's event is looking to be bigger than ever before.
EVO 2020 Championship Series
The largest collection of fighting games in one place, this massive tournament brings together players from multiple games at the highest skill levels for a tournament unlike any other.
Whether you're a Street Fighter fanatic or a Mortal Kombat kid, EVO keeps it fresh and exciting. It's also one of the fastest growing tournaments on this list and is expected to only continue to grow as it adds more games (and gamers) to its roster.
Fortnite Secret Skirmish
Smaller than the World Cup, the Secret Skirmish is Epic's way of including gamers in smaller, locally-based tournaments that can still dole out huge prize packages to skilled Fortnite gamers.
The International
Valve's competition is no joke and might even give out more money than any other tournament on this list. Dota 2 is a huge draw for global audiences and the final event takes place in Shanghai at the Mercedes-Benz Arena.
PUBG Global Championship 2020
The game that kicked off the battle royale genre to a large extent, Fortnite's rival and older brother has its own tournament and, like many on this list, is expecting 2020 to be nothing but a growth year.
Overwatch League
Sporting teams from 19 cities from all over the globe, Blizzard's dedicated Overwatch tournament is not only big for that company but a big deal in general.
Featuring an open-concept for qualifying, live events featuring winnowed down competitors lists will take place in such global hubs as Shanghai, New York, and Paris.
League of Legends World Championship
Combining 24 teams from 14 different countries from all over the globe, the League of Legends World Championship is truly an international event with huge prizes and tons of viewers at both virtual and live events. Like other tournaments on this list, initial qualifying rounds are relatively open and feature a purely online format.
FIFA eWorld Cup
As the name implies, this is FIFA's biggest electronic competition every year and, like the massive World Cup, is an absolutely huge tournament. Think biggest in the world to be exact. Because of its relatively open qualifying rounds, the FIFA eWorld Cup is a tournament unlike any other out there.
Call of Duty League
Activision's premier event for their marquee title, Call of Duty, the Call of Duty League tends to attract gamers' attention not only because of its fierce competition but also its healthy prize pot. With over $6,000,000 in prizes given away at last year's tournament, we can probably expect even more money to be on the line this year.
Dreamhack
Dreamhack is more than an eSports tournament – it is a celebration of the niche itself. From gaming competitions to digital art, Dreamhack is a display to the world what the gaming culture has to offer media in a general sense.
While it is currently based in Sweden, there are dreams of taking it global and expanding its message and outreach.
International eSports Federation World Championships
Initially launched in 2008 as the answer to the Olympics except for eSports, the International eSports Federation World Championships features a changing roster of games and is a great way to gauge what's hot – and what's not – in the world of eSports.
Once dominated by MOBAs, the tournament is now varied and comprises a lot of different genres.
Rocket League Championship
Created by Psyonix once the company realized its game had traction as an eSport, the Rocket League Championship demonstrates how new and different this field of sport is from any traditional one that has come before it.
Essentially, this competition announces to the world that companies are empowered, on their own, to create their own competitions. While the regional matches are played online, the finals are are an actual live event that rewards a healthy pot and attracts viewers from all over the globe.
Fortnite World Cup
This tournament makes the headlines and for more reasons than simply being the biggest representation of the world's most popular game out right now. With a pot of over $30,000,000 last year, Fortnite World Cup is not only the biggest out there in terms of money but it's also changing lives and perceptions of the field of eSports.
Boasting massive attendance at the live event in New York City and more than a million viewers live on Twitch.tv, the Fortnite World Cup is a veritable behemoth of the growing and expanding media empire around that game.
Like others on this list, the Fortnite World Cup is devoted to more than just pure competition and serves as a launching pad for the game's culture as well as a space within which the developers can introduce and discuss new ideas.
We can't wait to see what 2020 holds for this event and we're sure Fortnite players around the world can't wait to have their shot at what is sure to be a life changing prize.
Blizzcon 2020
Probably the OG when it comes to eSports, Blizzard was doing this stuff before it was hot anywhere else. Back when Starcraft was just a game people played in South Korea, Blizzard was there, nurturing and growing the sport into the behemoth that it is now.
Today, Blizzcon is not, by itself, an eSports event but, among events, it is by far the largest, attracting the biggest, most dedicated crowds and fans from all over the world. Beginning with attendance numbers in the 1000s in the 2000s to the 40,000 plus fans that attend today, Blizzcon's growth is not only amazing – it's spectacular. We've got Overwatch, World of Warcraft, Hearthstone, Starcraft, and much more.
Blizzcon not only showed the world that eSports events could be huge draws for crowds, but also insanely profitable. Though Blizzard's games are the main focus on the convention, its format and execution has inspired numerous clones and provided a template for a lot of the other tournaments on this list.