The Top Sports Games of 2018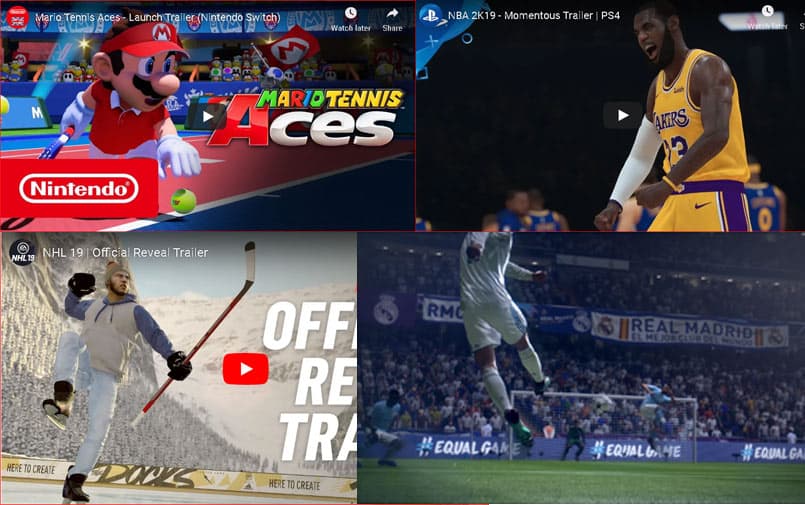 With each generation that passes, sports games play their part. From the beautiful game to top-flight racquet sports every season in the sporting calendar brings with it a host of titles which simulate their respective fields while providing exciting action that mimics real life. In truth, we have never been short on sports games, and 2018 was no exception. That said, let's revisit last year to remember the top sports games of 2018.
Mario Tennis Aces
First to hit up our list of the top sports games of 2018 is Mario Tennis Aces. Although Nintendo's smash hit is not the most realistic tennis simulator on the market, it capitalized on the somewhat disappointing AO tennis and Tennis World Tour. Both of which allowed Mario to flourish. In what was one of the surprise packages of the year. Sure, you can't play as either Federer or Nadal, but you can take to the court as our favorite plumber and any one of his merry band of loveable rogues.
Thanks to its bright and beautiful visuals and all-out arcade fun, Mario Tennis shocked us all to become one of the best multiplayer games of the year. Despite a linear campaign mode, the fast-paced action served as a warning to the rest of the field. All the while, it emulates the frenetic fun generated through the Mario Kart franchise. No doubt worthy of a spot on this list.
NBA 2K 19
Next on our list of the top sports games of 2018 is NBA 2K 2019. Despite being plagued by microtransactions, this Basketball sim delivers on the core fundamentals of the sport in every sense. From the glitz and glamor of elite level basketball to the high-stakes, end-to-end hoop scoring that we all know and love, basketball has never looked so stylish. What's more, the gameplay is as solid now, as it ever has been.
NHL 2019
Third, to grace this list is NHL 2019. Of course, there have been countless NHL games down the years. But none have been as accessible or fun to play as NHL 2019. Thanks to a generous offering of game modes coupled with a strong enthesis on arcade action NHL 2019 possesses exceptional replay value and offers a fully licensed campaign mode. All of which come together to give us the most fun and authentic on-ice action to date.
FIFA 2019
Each year, both EA and Konami clash horns as PES and FIFA battle it out for the top spot. Often, the winner fluctuates year on year, but in most cases, it's always too close to call. FIFA typically stands out with its authenticity and stylish presentation while PES promotes tight gameplay and fluid mechanics. Frankly, the latest iteration doesn't do much to reinvent the gameplay but does take a step in the right direction.
Mostly, this is down to the precise ball control and increased player responsiveness. Not to mention the all-new shooting mechanic, which adds a greater sense of challenge. Albeit, making shot execution difficult for the most part. An entry that more than deserves a spot on our list of the top sports games of 2018.
Madden NFL 2019
Last to prop up this list of the top sports games of 2018 is Madden NFL 2019. Every throw, sprint, tackle, and touch-down is representative of real life, thanks to advanced physics and player movement, both of which benefit from the Frostbite Engine. If it weren't for a subdued story mode, Madden NFL 2019 would be the best in the series for a long while. Concerning gameplay, it's at the peak of its powers.
That rounds-off our list of the top sports games of 2018. Which games make up your top picks? Perhaps there's a title that missed the cut and deserves an honorable mention. Please write in with your views. As always, we look forward to your thoughts.