DOOM Eternal is the latest entry in one of the most action-packed, epic, hardcore, and legendary game series ever made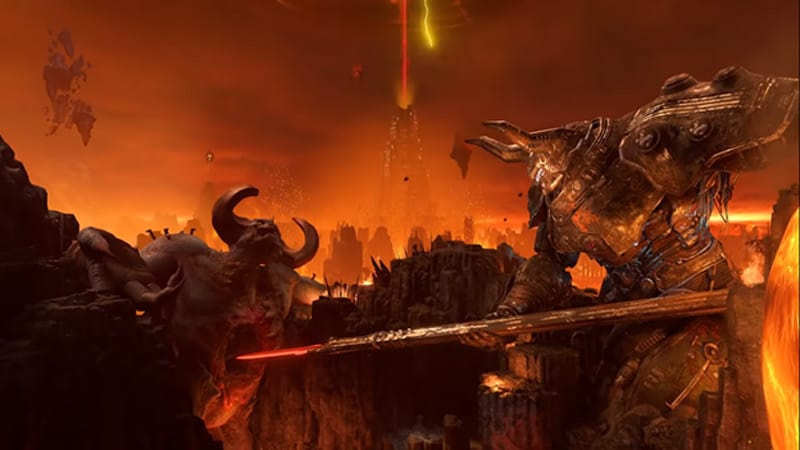 DOOM Eternal is the latest entry in one of the most action-packed, epic, hardcore, and legendary game series ever made. In 2016 id Software and Bethesda launched DOOM, a revival for this legendary series. That game brought back everything we all missed from the classic and took it to the most extreme level ever seen in the series. And four years after that, we have DOOM Eternal, which seems to take everything even further.
We know that in DOOM games killing demons is the main thing we'll be doing for hours and hours. The Hell we see in DOOM Eternal is a wild, violent, and frenetic one. Filled with demons to shoot, we'll progress in each map by blowing up demons and killing everything that moves. The level design in this game plays a big part in the story, as they need to establish this version of hell.
They managed to add so much amazing art into such an explosive title that's enough to leave you speechless but smiling in joy. There's a pleasure in playing these games, and DOOM Eternal knows exactly how to exploit this better than ever before.
Even though the game is so savage and extreme, they managed to include a very complete plot. Through the series, the Doom Slayer has changed quite a lot, but it's in these last games that they took it more seriously, in some ways. The demon hunt of the Doom Slayer is so extreme that the demons have an entire religion of fear just for him and there's more.
DOOM Eternal: The Gameplay
The levels in DOOM Eternal are amazingly designed, but you'll need to learn to move through them to make it out alive. We all know that one of the basic mechanics in every DOOM game is to shoot the demons until they die. But Doom Eternal added new gameplay mechanics that make it feel a bit more like a platformer.
We'll have to learn to jump from one floating platform into the next one, run through mazes and solve puzzles. Each level has tons of secrets to discover challenges to beat, traps to avoid and rewards to unlock. This means that while you're shooting every creature that moves in hell, you'll have to keep an eye out for your surroundings too.
While the Doom Guy is a beast and can kill any demon that comes his way, this game can be pretty challenging. There are different difficulty settings, but unlike other games, these don't affect the number of demons on-screen nor it makes them any slower. Changing the difficulty levels will only affect the amount of damage the enemy deals to you. This is perfect since it can keep being fast-paced and extreme as it should.
The difficulty curve in this game is well balanced, ascending at a steady pace. You'll feel your own progression in mastering the game as you defeat stronger and bigger demons using things you've learned before.
DOOM Eternal: Customization
This title includes more customization than ever before in the series. There are power-ups you can add on to the Doom Guy to grant him special abilities and more. There are tons of new weapons to use, so you can customize how to kill all the demons in hell.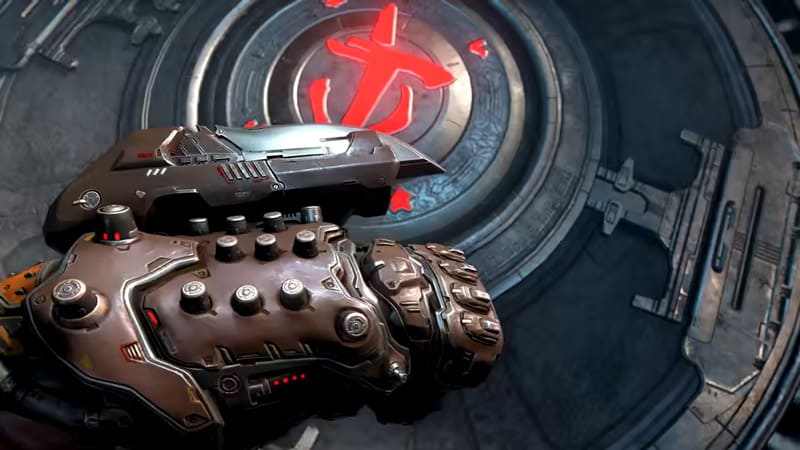 And while it's not much, you can even change the Doom Guy's armor, choosing from different colors and styles. Now you can RAZE HELL in fashion.
DOOM Eternal: The best DOOM game?
Taking what we've mentioned, and the actual game experience you get, we can say that DOOM Eternal is the best DOOM game so far. While it's easy to let yourself fall for nostalgic memories for older DOOM games, this title has all that and more. This is the most extreme, violent, and fast-paced title in the series so far.
When DOOM 2016 launched it was already the best in the series, it seemed almost impossible to top it off, but somehow they achieved it. DOOM Eternal takes things to the next level, adding real-time dismemberment, more violence, bigger enemies, and even better gameplay.
The plot in doom has never been so nicely explored as in this game. This is even the first time in the series where they officially call the Doom Guy as Doom Guy in-game. So now fans can even say that's the official name of the main character in the series from this point on.
Even the multiplayer mode has improved over the last game. They really took everything into consideration on how to improve DOOM 2016's experience for the player. However, we still do have to mention one thing that could be considered better in a past entry.
A DOOM game wouldn't be a DOOM game without its amazing soundtrack, and that can be a real controversial aspect of DOOM Eternal. It still features a completely new and amazingly extreme soundtrack by the same composer. But the sound files for the music are more compressed and normalized than in the previous game, so there's some quality lost in there.
Final Review
Taking everything into consideration, we still confirm that DOOM Eternal is not only the best DOOM game so far but also one of the best games of the year. Definitely a must for every fan of the series, and also for everyone looking or a nice game to RAZE HELL.