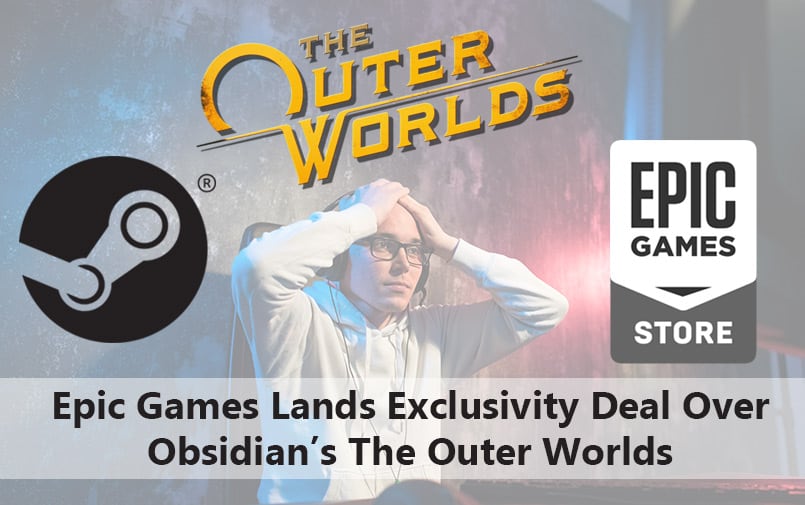 Epic Games Lands Exclusivity Deal Over Obsidian's the Outer Worlds
Epic Games cements its status on the world stage...
Recently, Epic games unveiled a host of hot exclusives for its online game distribution platform. The revelations first came to fruition at the video game industries annual Game Developers Conference. Meanwhile, the news of Epic's sudden partnership has hit the headlines hard, splitting opinion throughout the gaming community, for better or worse.
Among those mentioned: Obsidian Entertainments futuristic, sci-fi sensation The Outer Worlds. Including Ancestors: The Humankind Odyssey, a game created by Patrice Desilets, the brainchild behind Assassin's Creed. Both of which are overseen by Take-two and developed via its Obsidian division.
In truth, the decision to side with Epic Games is risky. Especially, since Valve's rival platform, Steam has such a huge following. Despite being the subject of much debate in recent months, Steam, as it stands, appears to offer greater compatibility alongside a more extensive database of games. But the jury's still out on that one.
On the other hand, AAA games of late have been switching allegiances, electing to ditch the old in favor of the new. Partly, because of the profit-split, with Epic Games issuing a more lucrative return, a fairer share of the proceeds back in the pockets of those behind the games.
Alienating a vast section of gamers, by keeping Steam at bay is a bold marketing ploy. Besides, with what is up to a year-long embargo, forcing players to buy on a particular platform is bound to affect sales in one way or the other. A backlash is inevitable, but perhaps Epic Games is just too great an opportunity to pass up. After all, you can't please everyone. That said, wouldn't you want to please as many as poss, and make the game accessible to all. Well, maybe that's just me.
First, it was Tom Clancy's The Division 2, then came Metro Exodus, and now The Outer Worlds. More recently, to add insult to injury, Remedies' abstract sci-fi shooter Control has jumped on the bandwagon also. That's not just any old trio of games. Those are titles of triple-A status. Meaning, Epic Games are shifting the balance when it comes to big-budget blockbusters.
With that in mind, there seems to be a trend emerging. On that note, is Epic Games flexing its financial muscle? Or will Steam bounce back and reclaim the top spot? We want to hear your take on the subject. As always, we value your views.