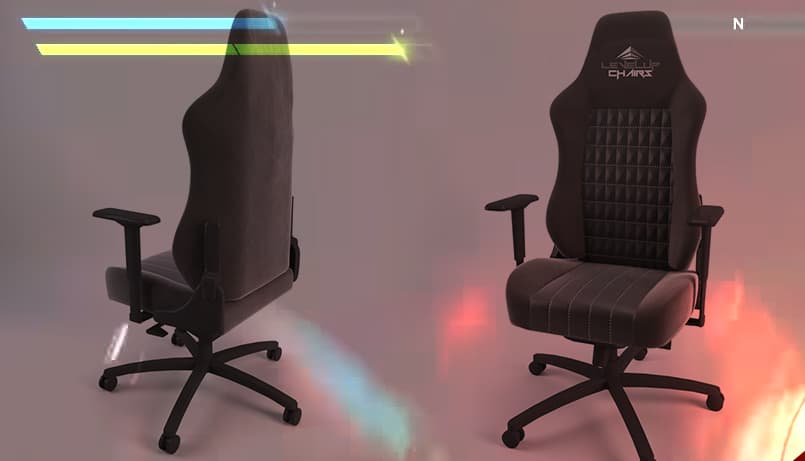 The Gaming Chair: Key Points Every Aspiring Gamer Must Know
Sit back, relax and read on...
I hope you're all sitting comfortably at home; it's going to be a bumpy ride. Firstly, let's begin by setting the record straight. Many factors come into play when selecting a gaming chair, but when all is said and done, the most important feature is the level of comfort. Sure, design, ergonomics, and efficiency all play a role, but at the end of the day, substance always reigns supreme, over style.
After all, looks can be deceiving, and many brands will attempt to attract the consumer via visual means. So then, it's a competitive marketplace full of possibilities, but how do we separate the weak from the chaff, and what constitutes a great gaming chair? So then, please take your seats, as we unveil the key points to consider.
Firstly, it's a good idea to study the conceptual origins of gaming chairs and learn why they share specific characteristics. Originally, gaming chairs were meant to mimic car interior seats, to enhance the experience of racing simulators. That's why most, if not all models have a fixed headrest alongside tailored back support that curves in at the sides. Whether or not these features are beneficial in the long term is a matter of ongoing dispute.
One of the major myths about gaming chairs is that they elevate the level of in-game performance. Of course, this couldn't be further from the truth. Excelling at a game requires equal dedication either in or out of the chair. That said, if you're slumped over like a couch potato, then you'll most likely be less productive during play. In that way, posture does play a pivotal role and improves upon player attention span, especially during long marathons in front of the screen.
On that note, gaming chairs are designed to optimize player experience by reducing the physical demands on the body. I know it sounds daft when you're not exerting much energy. But trust me, you would soon feel the effects playing in an uncomfortable chair for hours on end. That's one of the reasons why competitive players use top of the range products. The slightest edge can work wonders.
Varieties of Gaming Chair
Surprisingly, there are varying types of gaming chair, each with a specific purpose in mind. That said, the consensus is that all models belong in one of two categories: PC and Console. Although, there are a few variables to the rule. First up, we have the Pedestal Chair, and really, the clue is in the name. Pedestrian. Now then, sitting at the lower end of the spectrum, this chair allows the player to tinker with height and swivel settings. Typically, these come in either cloth or leather and resemble office chairs appearance wise. Hence, this is likely to be the most cost-effective of all the types, but from a visual standpoint, it's lacking. Still, looks aren't everything.
Next up, we have PC gaming chairs which, you guessed it, target PC players specifically. With that in mind, they tend to share great compatibility features with computer software and place added enthesis on comfort. Usually, they'll include additional back support via padding on top of user-friendly arm and head-rests.
Moving on, we have the "Rocker" chair, again reminiscent of the name these are all but self-explanatory. Unlike the Pedestal chair which has a base skeleton, the "Rocker" sits down anywhere on the floor as opposed to near a desktop. Thus, having a lower line of sight, perfect for console-goers. Also, "Rocker" chairs offer unrivaled Bluetooth support in most cases. However, one of the caveats, at least concerning the cheaper mid-range models is that the chair plugs into the tele via cables. That is if you want to make good use of the mod-cons. But, if you want the rainbow, you must put up with the rain. Often these chairs contain integrated sound systems, subwoofers, and speakers allowing you to listen to your fav tracks while you play. A safe bet, in this case, and a general all-rounder would be the X Rocker 4.1 Pro Series Pedestal.
Finally, we have the "Racer" gaming chair. These are designed to support racing-sims and are fully customizable. Therefore, hardware attachments like steering wheels, breaks, accelerators and clutches all connect, creating a new level of in-game immersion. Thematically, they tend to possess a flashy eye-catching aesthetic with cut-outs at the back to emulate the look of car seats.
Final Verdict
Models vary from luxury to simplistic but differ in degrees of compatibility and comfort. However, often big brands will charge more for mediocrity, so this is something we recommend you take into consideration. Also, the price is of secondary concern when it comes to a decent gaming chair. What matters most is functionality and ergonomics. Proper back support and a good quality headrest will work wonders over aesthetics, not least so if you're dealing with a low-budget. If the price is a huge deal, then the Merax Swivel Video Rocker Gaming Chair is a sure fire choice. As long as you're willing to play without compatibility features.
Do you have a gaming chair that meets all your needs? Let us know in the comments. Your opinions are valued.