The Top 20 eSports Teams of 2018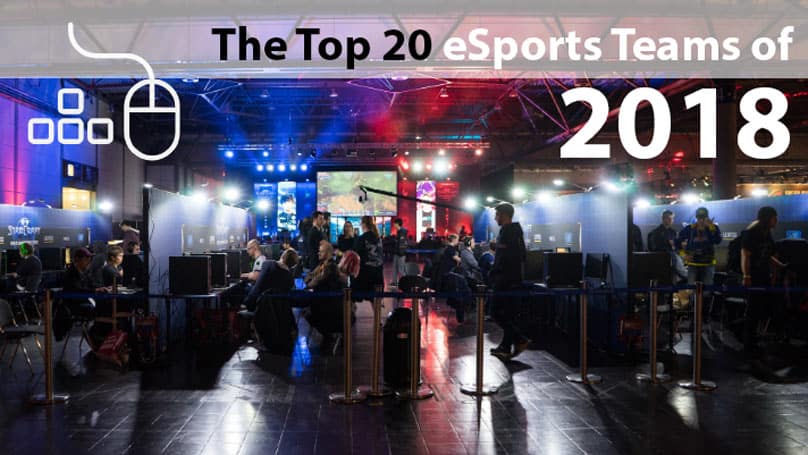 One of the fastest growing segments of gaming and entertainment overall, eSports rose from a niche segment to a money-printing behemoth in now less than ten years.
Once the purview of StarCraft and South Korea, eSports is now a global phenomenon with teams from all around the globe. And it is a hugely lucrative professions for players, too. Being a part of the best teams can net some players tons of money just like professional athletes get from their contracts. Of course, for those of us on the outside – or even those of us who are fans of eSports – you might know who the best teams are right now.
Luckily for you we've compiled them into this list of the 20 top eSports teams in the world right now. These groups represent a smorgasbord of talent and games but they're by far the best the eSporting world has to offer. Some names might be familiar, like Team Liquid, while others, like Ninjas in Pyjamas, might be completely unfamiliar to you.
Here are the top 20 eSports teams of 2018:
Team Liquid
Originally founded in the Netherlands for StarCraft 2, Team Liquid now spans every popular title from Street Fighter V to Fortnite. Typically ranked as the best team in eSports year after year, Team Liquid was one of the first major teams to pioneer multi-genre squads.
Cloud9
Competing in everything from CS:GO to Hearthstone, Cloud9 formed out of the purchase of Quantic Gaming's League of Legends roster by Jack Etienne. The team has since gone on to establish a reputation in multiple titles.
FaZe Clan
FaZe is based in the United States and North America and competes in Call of Duty, Counter-Strike: Global Offensive, Overwatch, PlayerUnknown's Battlegrounds, Tom Clancy's Rainbow Six: Siege and FIFA. The team has experienced particular success in competitive Call of Duty beginning with Call of Duty: Black Ops 3's release.
OpTic Gaming
Another American-based organization, OpTic Gaming specializes in first-person shooters such as Call of Duty, Halo, CS:GO, Gears of War, League Of Legends, DOTA 2, Overwatch and PUBG. It is co-owned by professional baseball team the Texas Rangers' owner Neil Leibman.
100 Thieves
This was once prominent in the CS:Go community but has since moved on to Fortnite and Clash Royale, among other titles. Founded in 2016, the team has recently found prominence in the League of Legends circuit.
Team SoloMid
Based in the US, Team SoloMid does everything from Smash to Hearthstone. Current games the teams focus on include League of Legends, Hearthstone, Super Smash Bros., PlayerUnknown's Battlegrounds, Fortnite and Vainglory.
Fnatic
Coming out of the UK, Fnatic has quite a record in the Dota 2 and League of Legends competitive worlds. In the League of Legends 2015 EU LCS Summer Split Fnatic was the first team to go undefeated in a split.
Team Kaliber
Hailing from Atlanta in the United States, Team Kaliber is an eSports team and gaming multimedia organization. The team trains together in a house in the club's headquarters in Atlanta.
G2 Esports
This Spanish eSports team has one of the widest resumes of any group on this list. They tackle League of Legends, Counter-Strike: Global Offensive, Hearthstone: Heroes of WarCraft, Vainglory and Rocket League and Critical Ops, among others. The team won the 2016 and 2017 Spring and Summer EU LCS League of Legends events – four victories total!
Team Envy
Founded as a competitive Call of Duty club, this dual France/US team now tackles Call of Duty, Counter-Strike, Overwatch, Paladins, PUBG, Rocket League, and Street Fighter V. Managed by Mike "Hastr0" Rufail and Tyler Thompson, the team achieved some notoriety from its association with popular CS:GO YouTuber Trevor "TmarTn" Martin.
And here are the rest of the teams according to Ranker:
Luminosity Gaming
Evil Geniuses
Ninjas In Pyjamas
Astralis
NRG eSports
Counter Logic Gaming
compLexity Gaming
Natus Vincere
SK Telecom T1
Team1 Secret
It's tough to rank eSports teams when so many play different games but this list should give you a general idea of who the biggest names are out there. Of course, everything could change by next year but, again, the rankings often reflect an aggregate performance rather than any one game. A trend that many analysts expect to show more impact in 2019 is the rise of the battle royale genre which is not only represented by a smattering of teams here and there.