The Top Racing Games of 2018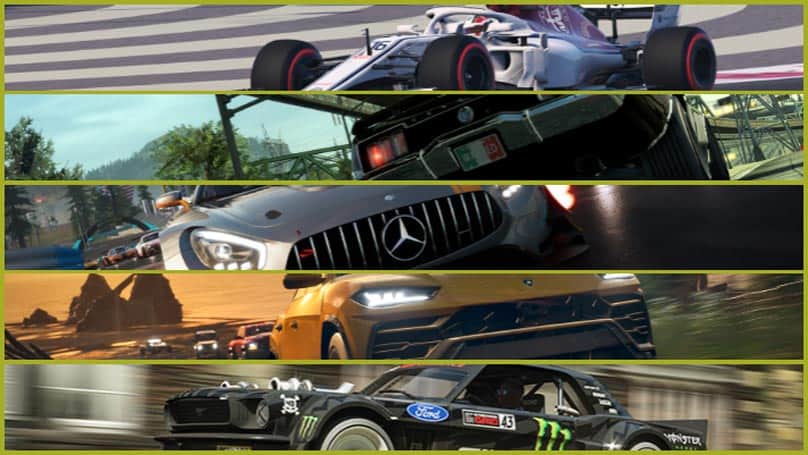 Similar in many respects to the sporting calendar year, the racing genre has its series of annual contenders, all gunning for top spot. But, in line with most elite level sports, only one can clinch first place to claim victory as the season end champion of their respective field. As we whizz through the new year at an alarming pace, let's reflect on the racing games that led the charge for glory last season. So then, put your hands together, for the top racing games of 2018.
Forza Horizon 4
https://www.youtube.com/watch?v=zJ477xAIlgU
First up to the line is Forza Horizon 4. The Microsoft exclusive which edges into the lead, thanks to its impressive sound design and visual fidelity. Not long ago, number three in the series canon was considered top-dog amongst vets on the racing circuit. Although barely a season adrift, the new installment broadens the gap with a fleshed out and flexible career mode. All the while, adding an almost infinite array of authentic vehicles. A must-have for racing fans, and a worthy entry on our list of the top racing games of 2018.
Burnout Paradise Remastered
Some of us like to get our swift kicks abiding by the laws of the road. Though that may be true, there is a percentage of the gaming populous that enjoy the heavy-impact crushing of steel and high collateral damage at brain-melting speeds. Those in the latter camp, are sure to issue Burnout Paradise Remastered with the top honors of 2018. Burnout's back with a brutal bang. In truth, we wouldn't want it any other way.
https://www.youtube.com/watch?v=f4JqCmt9hzE
Despite a fresh lick of paint and a touching up here and there, the polished presentation takes a backseat. What truly matters here is the gameplay. Thankfully, the developers Criterion Games haven't tweaked with winning formula too much. As a result, executing insane drifts and plowing head-on into oncoming traffic feels just as visceral and entertaining as it did all those years ago in Paradise City. No doubt, one of the top racing games of 2018.
F1 2018
Coasting in to bag a comfortable third-place finish is F1 2018. Although lagging from a graphical standpoint, F1 2018 quickly chews up the ground to close the gap on its competitors. All thanks to an in-depth story mode and vastly improved handling. Once combined, these elements simulate life behind the wheel. Like no other F1 racer out there — a guaranteed buy for fans of the sport. Surely then, a neat addition to this list of the top racing games of 2018.
The Crew 2
Ditching pure racing simulation for all-out arcade action, The Crew 2 defies all conventional racing logic to bring about an outlandishly fun and full-throttled amphitheater fit for all forms of speed demons. With a host of disciplines to engage in, a gamut of vehicles to take for a spin and the varied terrains through which to race, going head-to-head via land, sea or air has never been so inviting and addictive. In short, The Crew 2 is a decent last-ditch entry on our list of the top racing games of 2018.
That finishes this list of the top racing games of 2018. Did your first choice make it on the podium? Please join us at the finish line. Or dash to the comments with your top picks. Your contributions count.