E3 2019 Microsoft Press Conference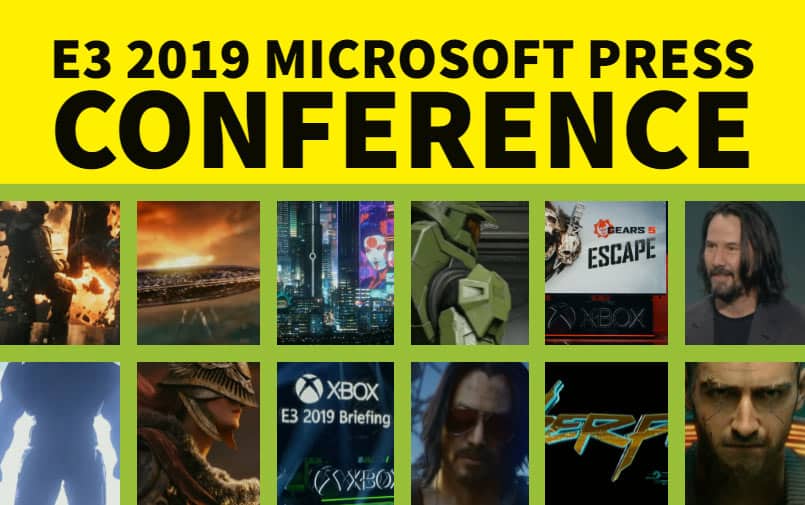 With Sony deciding to sit out E3 2019, Microsoft had a chance to shine on the main stage. As the first of many press conferences to air at Expo this year, Microsoft set the tone early on, with 14 exclusive games and, a host of other potentially promising titles.
The previous year, Microsoft adopted a Nintendo-like, quick-fire approach, and the company followed similarly this time around. Of course, with so much going on at once, it's hard to keep track of everything. With that in mind, we've assembled a list of the must-know announcements from the E3 2019 Microsoft Conference, to keep you in the loop.
From Keanu Reeves featuring in Cyberpunk 2077 to the next-gen Xbox, codenamed Scarlett, we've got all the essential intel to keep you up to date on the foreseeable future of Microsoft.
Halo Infinite will Release Alongside the Xbox Scarlett
It was long foretold, at least in an unofficial capacity, that news of Microsoft's next-gen ambitions would surface at some point during E3 2019. Thankfully, those rumors materialized. And now, we know for sure which console will proceed the Xbox One.
Closing out the event, Microsoft unveiled its new hardware, entitled, Xbox Scarlett. Releasing in the summer of 2020, the "Scarlett" is a force to be reckoned with, possessing 4X the power of its predecessor.





Now, it's worth noting that Microsoft didn't determine the console name, but rather labeled the project as a whole. Also, fans around the globe left without a specific store date or price point. However, the company shed some light on the specs. And, the system's capabilities.
Along with a custom-built Zen 2 processor courtesy of AMD, the inclusion of an integrated SSD will come as welcome news to many. The aim being, to drastically reduce loading times. Also, the next gen will support discs, and decent GDDR6 memory is said to lift bandwidth.
More importantly, though, the potential to play in 8K. Along with backward compatibility, make Microsoft's upcoming creation, an exciting prospect. Finally, Halo Infinite will release with the console in 2020.
Keanu Reeves Arrives at E3
For many, Keanu Reeves is the perfect accompaniment to a cyberpunk infused game. What having played the lead role in the Matrix, and John Wick respectively. What's more, he's just a genuinely cool fellow, as one member of the crowd comically pointed out.






And although it was great to see Keanu as an in-game character with shades and a cybernetic arm, the best and most enticing part of it all, was the surprise revelation of a release date.
Cyberpunk 2077 hits stores on April 16, 2020. Thank you, E3 2019.
Elden Ring Airs At E3 2019
George RR Martin is a living legend in the literary sense. On that note, fans, where itching to, see more of his future collaboration with those soul punishers, over at FromSoftware. Sadly though, we got no gameplay but were treated to a compelling, cinematic teaser. On the face of things, it looks as though Elden Ring is influenced heavily by Dark Souls and carries distinct fantasy elements.
It is also an open world RPG. Or at least, Elden Ring abides by a similar structure used in the Soul's series of games.
xCloud Gets October Launch Date During E3 2019
During the conference, Phil Spencer opened up about the xCloud. Microsofts all-new streaming service. The platform will launch in October 2019 and will land on the market, before the Google Stadia. Undoubtedly, a bold, yet brave move by Microsoft.
Next Up, The Outer Worlds
Ever since that fierce backlash over "76", despondent RPG fans have been turning to Obsidian and The Outer Worlds. All in the hopes of getting a definitive role-playing experience. A new trailer at E3 2019 gave us a fresh glimpse at gameplay, And, as it just so happens, a release date.
The Outer Worlds releases worldwide on October 25 across all major systems.
Gears 5 Graces E3 2019
Gears of War is one of Microsoft's most prominent and long-standing exclusives. Therefore, it's only natural, that Gears 5 would occupy the floor for some considerable time.
During the reveal, we got a chance to see the game's focal characters. Alongside a new three player game mode, and a thematic crossover event centered around Terminator. Could be interesting. Stay tuned, for more intel in the upcoming weeks.
In other news, Gearbox unleashed a limited time DLC, to coincide with the release of Borderlands 3. Also, a new iteration on the Minecraft formula surfaced, which appears to be a hybrid dungeon crawler. All the while, Battletoads and Age of Empires 2: The Definitive Edition make up the bulk of Microsoft's E3 2019 conference.
And there you have it, folks. Another year, another highly entertaining show. With no Sony present, the pressure to deliver was firmly on. All in all, Xbox did an excellent job of keeping bums on seats. But really, the highlight reel will undoubtedly be dominated by the Xbox Scarlett. Besides, at this moment, we peer tantalizingly upon the phenomenal future of gaming — more info on that, in the months ahead.
For a comprehensive rundown of E3 2019, be sure to visit our news page. Updated, daily. So, without any further or do see you all at the E3 2020 conference! Thanks for the memories.